The National Disability Insurance Scheme (NDIS) was set up to provide funded support to every Australian resident with a disability, regardless of the severity of their condition. NDIS covers a range of services, all of which are designed to help people reach their full potential and live a good life. As a registered NDIS provider in Melbourne, we take on this vision and put it into practice through the services we offer. We meet all the eligibility requirements set by NDIS, including having the right qualifications, approvals, experience, and capacity to provide the approved supports.
We abide by the rules and regulations set by the NDIS and charge for the NDIS services according to the Temporary Transformation Payment (TTP) prices in the NDIS price guide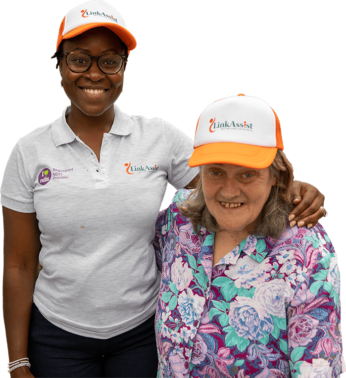 As a carer, how can I access the NDIS to help my loved ones?
Becoming an NDIS participant and availing of the required services can seem daunting, but we're here to help! We'll make the process as smooth as possible and help you get the most out of NDIS for your loved one.
At LINKASSIST, we want to help you take full advantage of the NDIS plan for your loved one. Our Support Coordinators will work closely with you to choose the services that best meet your loved one's needs.
What are the Eligibility Criteria for NDIS?
While the NDIS Provider in Melbourne or other regions is open to all individuals living with a partial or complete disability, you have to fulfil certain criteria to be eligible for the scheme, which include:
When applying for the scheme, you must be aged between 7 and 65 years.
Must be an Australian resident.
Have Australian citizenship.
Be a permanent resident of Australia.
Have a Protected Special Category Visa.
You should be living with a permanent disability that obstructs the proper functioning of your everyday life.
Provide current medical proof that the service covered by NDIS would assist you in preventing, reducing or alleviating the impact of your disability on your everyday life.
If you think you are eligible for the NDIS in Melbourne, you can:
Once you prove your eligibility, next comes partnering with a reliable NDIS provider Melbourne. That's where we at Link Assist come into the picture. We will be your support workers and caregivers and ensure that you get to make the most of your NDIS journey.
The Code of Conduct for NDIS Providers
To ensure the well-being of all NDIS participants, NDIA has laid down a detailed code of conduct that all NDIS providers need to follow. This code ensures safe and efficient service delivery and protects all NDIS participants against anything that hampers their comfort and well-being.
As per the NDIS code of conduct, all NDIS providers and support workers should:
Always respect individual rights and never limit the participant's freedom of expression and their right to make decisions regarding their life.
Respect the privacy of all NDIS participants under their care.
Polish their skills and ensure effective service delivery.
Act with integrity, honesty, and transparency.
Always be ready and willing to take action against anything that hampers the safety and comfort of the participants.
Act responsibly and take meaningful action against any form of neglect, exploitation or violence experienced by the participants.
Prevent and take action against sexual misconduct.
As a reliable team of NDIS providers in Melbourne, we abide by the rules and regulations set by the NDIS and work with proper adherence to your needs and requirements. Our team actively addresses any breach of the code of conduct, and we ensure that all our services are on par with the standards set by NDIS in Melbourne.
An NDIS Approved Disability Service Provider in Melbourne
The NDIA has a clear regulatory policy to keep a check on the organisations that take up the responsibility of offering care and support to the NDIS participants. To become an NDIS-approved provider, all organisations need to complete a thorough application procedure, which includes:
An eligibility check
An online application form
An audit
An assessment of the application
Only after the successful completion of the application procedure is one given the title of "NDIS approved disability service provider." The procedure is the same regardless of the area that an NDIS provider is applying from. In case of any discrepancies, the application is immediately rejected.
As a registered NDIS providers Melbourne, we have undertaken all the due procedures and emerged as a reliable name within the NDIS community. We deliver all our services as per the NDIS charter and do it all in our power to maximise the well-being of the participants. We are dedicated to the care of the ones under our care, and through our services, we try to secure a stable, comfortable, and growth-oriented environment for all NDIS participants in Melbourne.
Frequently asked Questions